DOG GUARD
Underground, out-of-sight pet fencing!
Dog Guard Out of Sight Pet Fencing has been protecting family pets since 1988! Our company produces high quality, reliable pet containment systems that are 100% Made in the USA. With a nationwide dealer network, you can find your local Dog Guard installer. Dog Guard Out of Sight Pet Fencing will safely contain your pet using time-tested training techniques. Out of Sight systems are competitively priced and your local dealer will install your system and help train your pet for the best results.
Made in the USA  /  Veterinary Recommended  /  Family Owned & Operated

How It Works
First, a transmitter is installed in a convenient location, such as the garage or basement. Then, the wire loop is placed underground. The transmitter sends a harmless radio signal through the wire, which is picked up by the small receiver on the dog's collar. When the dog nears the wire, the receiver in the pet's collar picks up the signal and gives off the owner's choice of an audible warning or mild correction.
Dog Fence Training

The boundary is marked off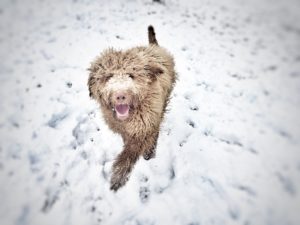 with flags, creating a visible boundary line for the pet. For two weeks, the dog owner should spend time exercising the dog around the flag boundary. If the dog moves toward the flags, he should be told "NO!" and then be moved away from the flags and given lots of praise. By using this technique, the dog will quickly learn where the boundary is located. Later, once the dog becomes familiar with the visible boundary, the flags can be removed. Remember, praise and repetition are the keys to success!